Fly Baby Anniversary Gathering
Riverside, California - May 4th 2002
The first of the 40th anniversary Fly Baby Gatherings was hosted by EAA Chapter 33 in the Antique Division on Flabob Airport. Darrell Blasjo kindly handled the organization.

LeBaron Amacker attended the Gathering and shot these pictures. The photos, and his emailed comments on them, are reproduced here by permission.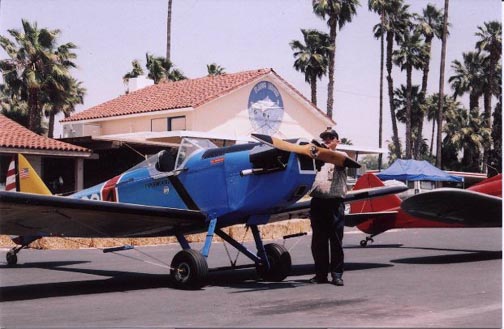 "N2608 is now owned by Chuck Davis of Fullerton, CA, ship based at Flabob. First time I saw this ship in the flesh was at Arlington (had seen it in print before) owned at that time by John M. Sturgis, who had completed a handsome little mini-Max the year before."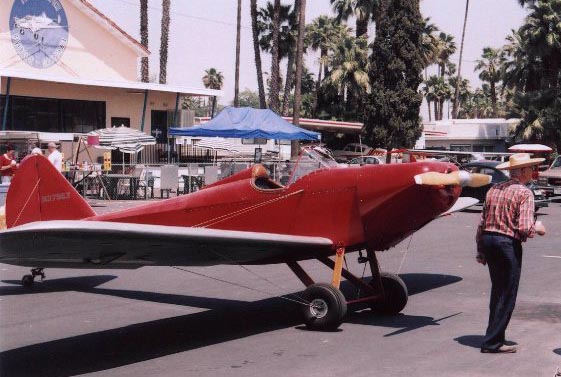 "N37983 was festooned with a wind driven generator for radio (no lights). Nicely fit cowl (from a T-Craft, I believe) was one of the better T-Craft or C-120/140 cowl adaptations I've seen on Fly Babies over the years.Unable to locate owner, but one thing for sure. This kite is no Hanger Queen, obviously flown--a lot. " [RJW note - This is owned by Wayne Spani]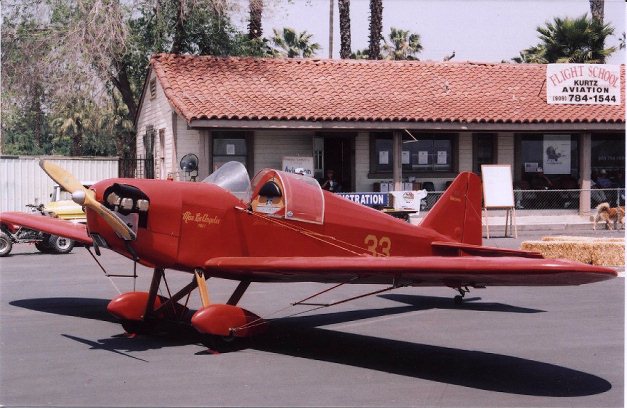 "Bill Turner's Fly Baby, Miss Los Angeles, festooned with race # 33. Didn't see Bill on the scene [Photo taken on 5 May], but this Fly Baby was one of the earliest one's built with a sliding canopy and wheel pants. Reckon the '30's air racer look got into Turners blood as he has gone on to build some fantastic replicas of several ships of the Golden Age of Air Racing. Couldn't be based in a better place than Flabob, home of EAA Chapter One founded by Ray Stits. "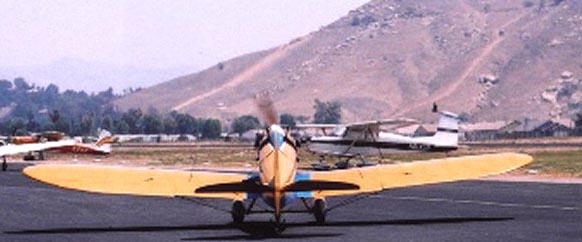 Our correspondent didn't catch any details of this one, but he describes it as a "handsome kite."
Thanks, LeBaron!

---

Questions? Email Ron Wanttaja .

Return to The Fly Baby Main Page