How to Build a Fly Baby Canopy

By Matt Michael
October 2008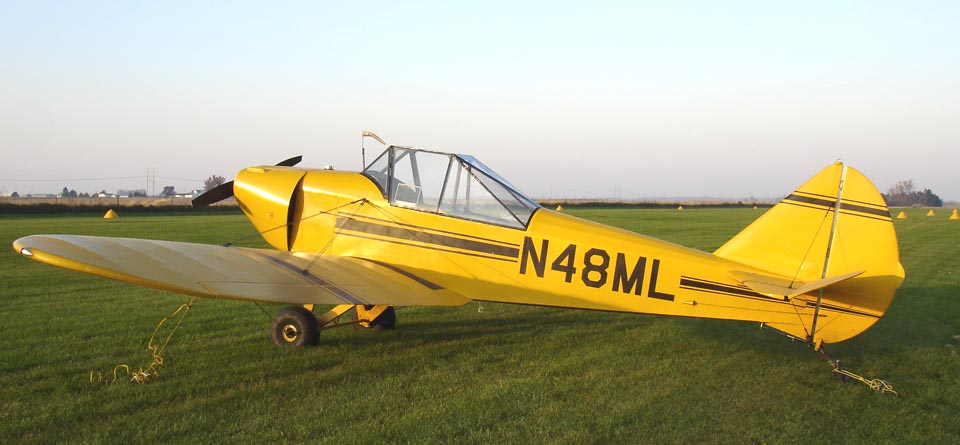 One of the questions I get a lot, especially from Fly Baby fans in northern climes, is how to build a canopy for a Fly Baby.
Matt Michael bought N48ML a while back, and has built a nice-looking canopy to go with it. The neat thing about Matt's design is that it was added to a flying Fly Baby... the plane doesn't have to be originally built with the canopy. This is

exactly

why Pete designed the airplane with a removable turtledeck...so a builder can have a canopy for winter flying, and enjoy an open cockpit feel and look in the summer.

Matt supplied the pictures and much of the description, and I've added a bit of amplifying information. There are only rough dimensions given, as every Fly Baby will be a bit different, especially in the windshield shape. You'll need to build your canopy to match your windshield.

Matt's design is a "throw-over" type, like an RV-4 or ME-109, not a sliding canopy. This avoids a whole lot of structural problems...as well as the danger of a slider coming off its tracks and removing part of your tail as it departs the airplane.

RJW

---

This design works with the stock windshield and turtle deck. What's special is that it eliminates any compound curves. It was a lot of fussy work but cheap and simple to build.



The basic structure is 3/4" plywood, held together with small screws and glue.
The Front Bulkhead matches the windshield shape...Matt just took a tracing on the plywood. The middle bulkhead is the same basic shape, but cut out for a pair of ovals instead of a complete cutout like the front. This really helps the structural integrity.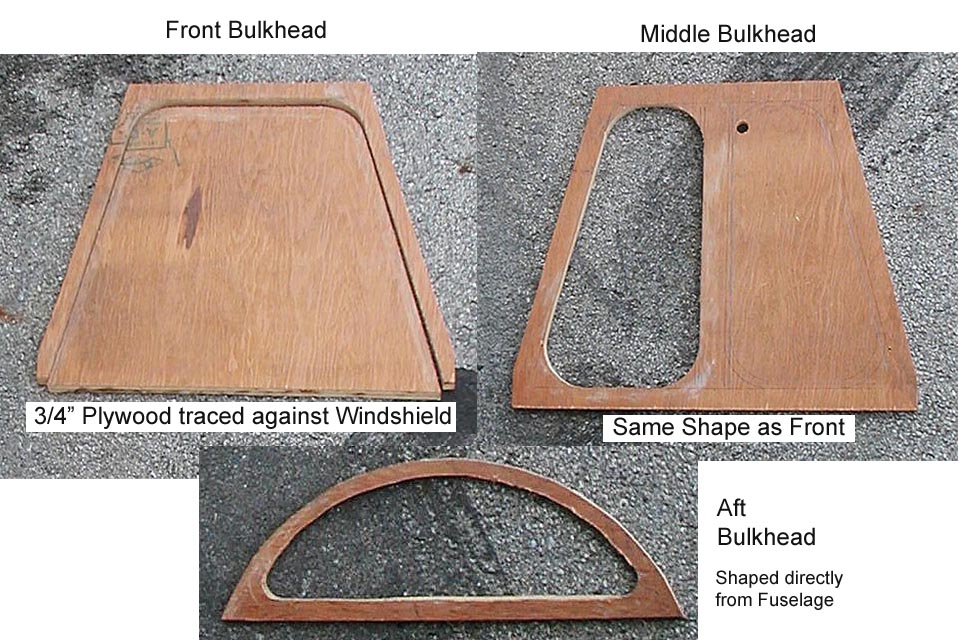 The table saw was handy for cutting stringers and corner blocks. Lots of angles there but easily tamed with an adjustable angle gauge. No figuring just lots of back and forth. Wood is cheap so if a part didn't fit I just cut another. Lexan is a dream to work with but scratches if you look at it wrong. Again, mess it up--just cut another one, easy.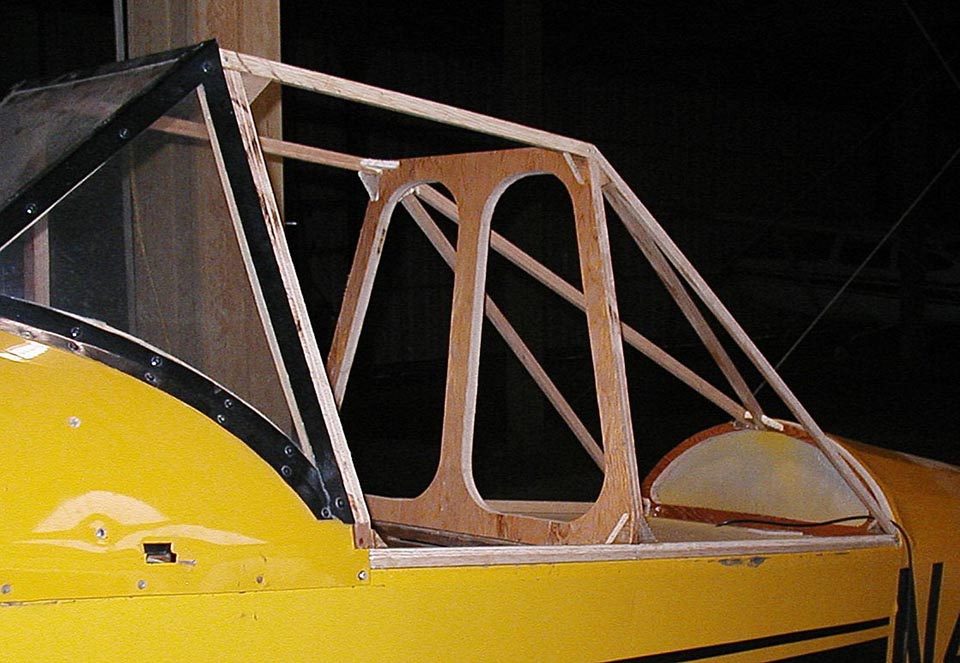 The above picture, and the one below, show a lot of detail on how Matt designed the canopy. The Stringers are made from spruce or fir, as are the corner blocks at each intersection. Again, this is held together by small screws and glue. Matt's corner blocks look like they're 1/2"..I think I'd use the same 3/4", just to give a bit more "meat" for the screws to dig into. But I have a tendency to overdesign, anyway....
These pictures are basically "fit checks" before Matt takes the time to finish-sand and paint the frame.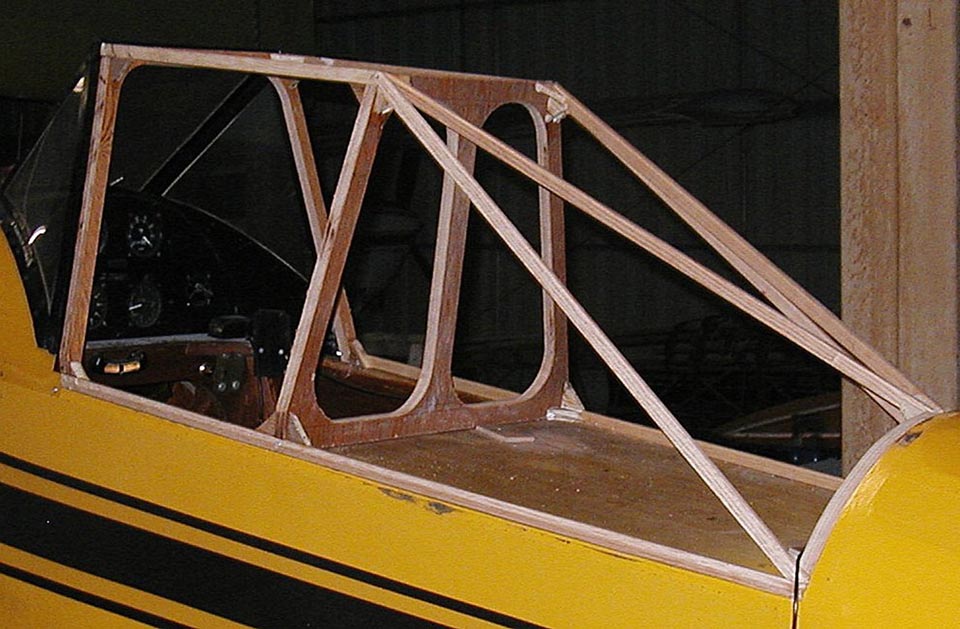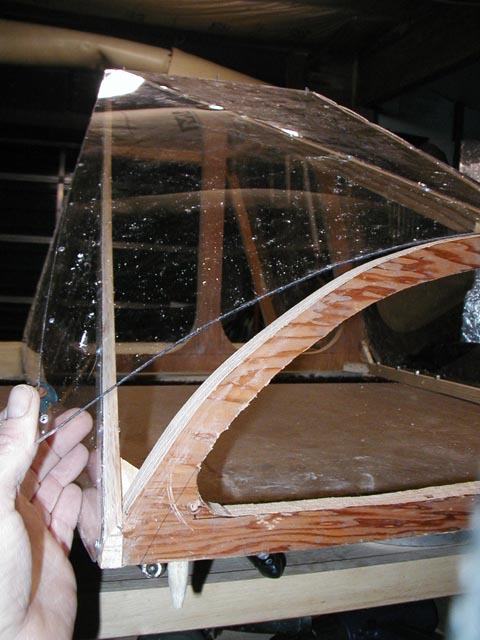 Matt's canopy uses Lexan for the clear sections. The aft panels are the only ones that have to curve, he made these out of 1/16" Lexan. The forward section should be 1/8" minimum.

Matt doesn't show the details of his locking system, but it appears he has a cable-operated pin that goes into the same positioning hole in the aft bulkhead as the original turtledeck. A suitcase latch like the standard canopy would be just fine, up front. The canopy uses piano hinge on the right longeron.

I didn't include the pictures of it, but Matt also added a small access windown on the left side. This lets him reach in and work the lock mechanism from the outside, and will let him get a little fresh air when he wants it.

Still working on best way to seal around the edges. Back and sides are easy with foam and/or overlapping exterior strips but the front is complex due to the way the side hinging mates the canopy to the windshield. So far it just hasn't been an issue as the close fit (about 1/8th inch gap) doesn't draft noticeably.

This canopy now has about 70 hours of use on it and has only shown a few tiny stress cracks, which were expected and are easily stop drilled. It weighs only a pound or two more than the turtle deck.

It really makes cross-country flying super nice. While the view through the lexan isn't as nice as nothing, the field of view is actually larger as the turtle deck isn't in the way. It takes a screw gun and about 5 minutes to swap from open cockpit to canopy.

I'm really happy with it! Questions welcomed.



Matt Michael



[RJW Note: See Matt's postings on how he built is baggage compartment, and all about the Long Trip he took.]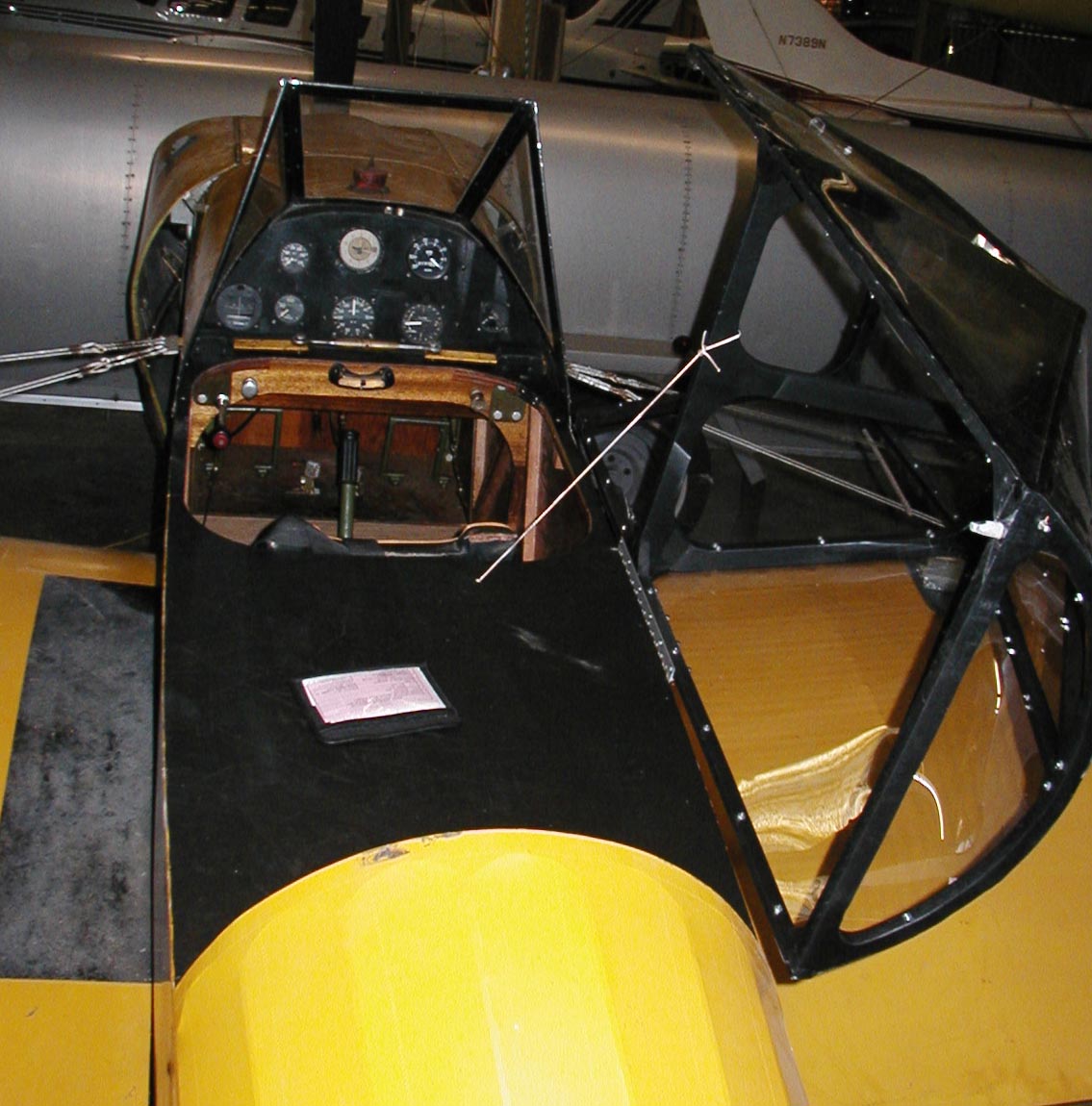 Return to the Tech Page