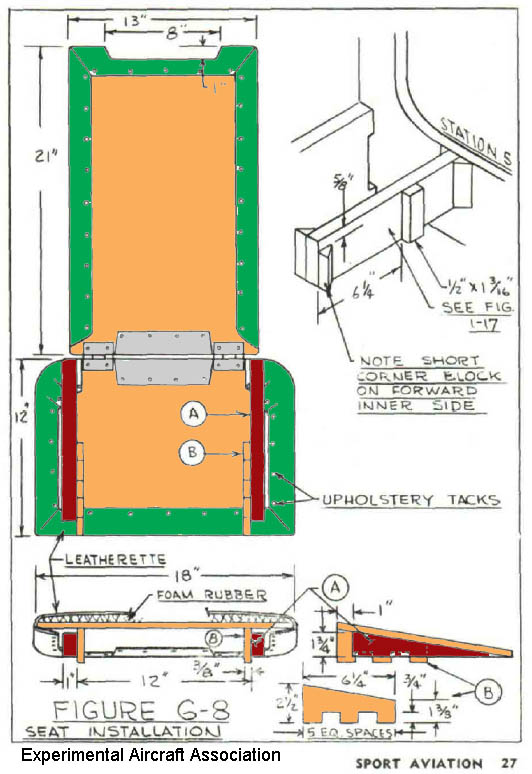 I think Pete must have been rushed when it came time to make a seat for the Fly Baby. The airplane was ready to fly, and he needed SOME way to sit in it.
So he took a couple pieces of plywood and a few hinges, and made a seat. Had notches on the lower part so it could be adjusted fore and aft, then went on to more-important projects.
When I first started flying Pete's N500F in the 1980s, I thought that seat was going to cripple me. Damn, was it EVER uncomfortable. Fifteen minutes of flitting around the pattern, OK, but for longer trips....sheesh. The base wasn't too bad, but the straight back gave no support at all. All the pressure was on one spot on your back.
(It should be noted that three members of EAA Chapter 26 flew N500F to Oshkosh in 1982 and 1987. Never heard any complaints about the seat from THEM. However, none of them flew the airplane again once their trip was done....).
One of my first cuts at aircraft modifications was building a new seat for N500F. It's not a structural element, just sits on the cockpit floor rails, so it's not a critical component. I carved some wood in a seat-like shape, bent a piece of aluminum around it, glued down a square of carpet, and made a framed back with a kind of webbing. Worked, though still not very comfortable.
When I started building the Fly Baby web page in the mid-90s, one of the first things I posted about was a warning about the seat. You can still find it.
Both seats went with the new owner, when Pete sold N500F in 1994. I bought half-interest in a Stinson 108, and put Fly-Baby-dom out of my mind.
Then, in 1996, I was offered a pristine Fly Baby (with just 80 hours in it). I sold my half-interest back to my partner, and bought the plane I eventually named Moonraker.
'Raker came with an elegant seat. It was fiberglass at the core, had some light foam for padding, and professional job of tufted vinyle applied.
Beautiful seat. It's the left-most in this picture...along with the other two seats that replaced it, over the years.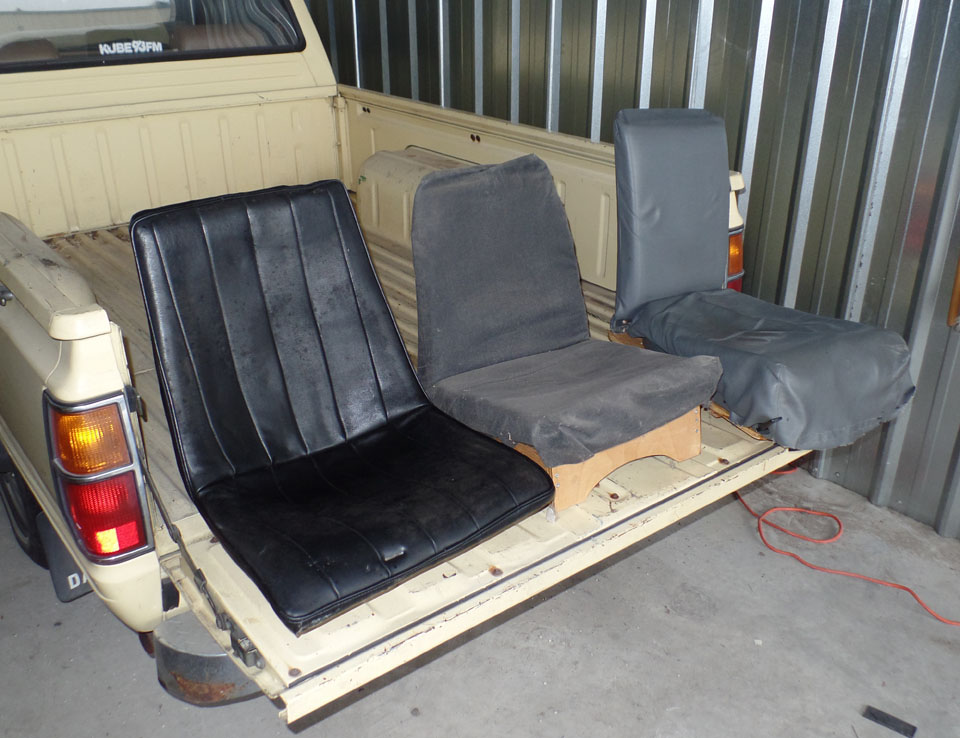 Replaced? WHY?
The seat is semi-reclined, and one's rear end is considerably forward.
Didn't matter to guy I bought it from; he was so short that when he stood, his legs barely reached the ground. Made a difference to me, who has average height (six feet) but disproportionately long legs.
I bought 'Raker at Arlington airport, and had to fly it 80 miles to the home drome. It was killing me all the way. I crawled out of the airplane after I landed, and said, "I *gotta* build a new seat before I fly it again."
Had one ready a couple of days later. I'd gone to Boeing Surplus (sadly demised) and bought a fiberglass stacking chair that came with steel-tube legs. Removing the legs was easy, as was building a sort of "box" to adapt it to the Fly Baby seat frame.


One problem was, like the original seat, the new fiberglass seat had a pretty good recline. Putting my heinie where I had good legroom meant the back of the seat terminated somewhere behind the STA 5 bulkhead.

I got sneaky and took a bit of aluminum (also from Boeing Surplus) and cut a new back. It laid into the existing back, but because it wasn't bent, it was far more vertical. A little foam, a bit of canvas, and I had a pretty good seat. It's the one in the middle.


But fifteen years later, my right knee was giving me fits, and I developed the "
ejection seat.
" That's it on the far right. I was doing some upholstery cleanup so it looks a bit ragged.
Other Seats
Jim Katz put a stock seat in his airplane, and I haven't heard him complain since. Here's a couple of shots.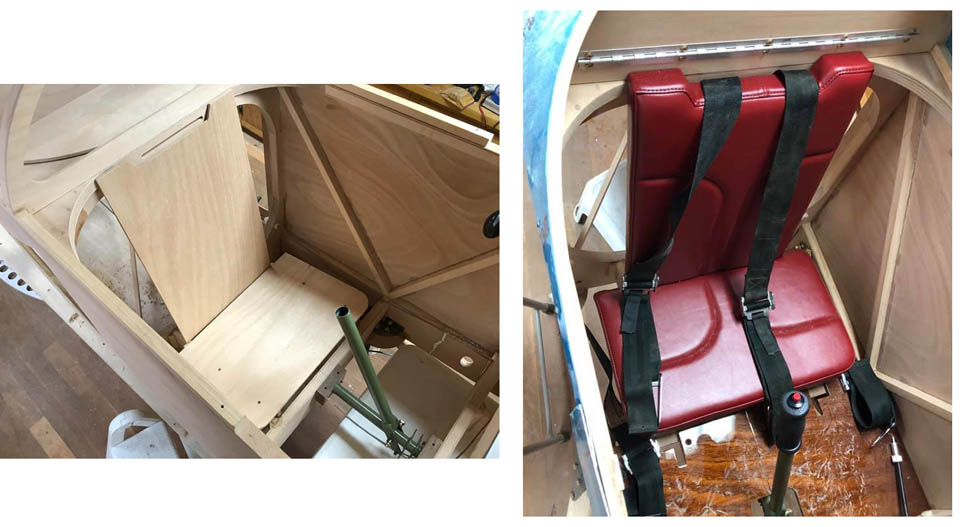 ---
Jeff Gray did a nice seat from scratch.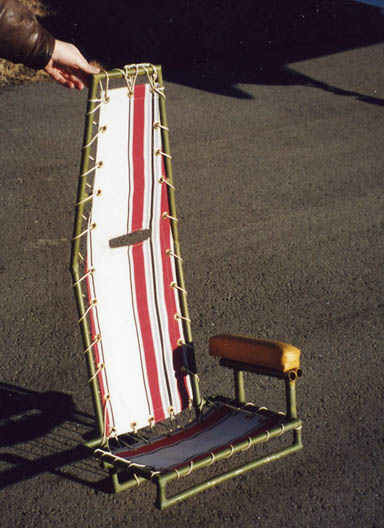 More details on this seat
here
.
I also vaguely remember conversations about a Toyota seat being converted to fit a Fly Baby, but can's seem to rustle up any pictures.