Tales of Fly Baby Pilots and Owners
One nice thing about the Internet is its immediacy. For years, I've come home from flying my 'Baby and posted about the fun, goofy, or improbable things that happened on the just-completed flight. These usually aren't written all that well, but I think they indicate just how much fun a Fly Baby is.
Most of the stories below are written by myself, but some are written by other pilots who have caught the Fly Baby bug. Click the buttons above for the general categories.
---
First Flights
---
Ownership
These stories cover both the aircraft side and the personal-equipment side of Fly Baby ownership
---
Aloft
Ron Wanttaja's Stories
(Jump to latest stories)
A Fly Baby TV Star? Check out Lights! Camera! Fly Baby! (April 1991).
Dogfight ! I get bounced by an RV-3 and the fight is on! (November 1993)
Rain Dance . Always wondered what would happen when you flew an open-cockpit plane in the rain. (December 1991)
Two big do'ins in one day: The Fly Baby gets a radio for the first time, and I end up taking off and landing in a vicious crosswind. (May 1990)
Bad judgment inexplicably fails to kill me during A Bad Day at Black Rock . Names and key details have been changed
I got asked, "What do you do during long boring flights? " Here's my answer.... (September 1992)
The Moonraker saga. Back in 1994, my flying was brought to an abrupt halt when Fly Baby N500F was sold and the club disbanded. Here's the articles that described getting my new Fly Baby, which I subsequently dubbed "Moonraker":
I say farewell to a Fly Baby friend in Goodbye, John . May 1995.
Need help keeping the airplanes on the taxiway? Call for The Furry Dispatcher ! (September 1996)
What about Fly Babies in cold weather ? Here's a net posting and a set of pictures from when I flew my 'Baby on a reasonably cold day. (December 1996)
It wasn't the Doolittle raid, but Thirty Seconds Over Elma catches the flavor of flour-bombing from a Fly Baby. (Fall 1996)
Some folks may like dragging their airplane-driving heinies out of bed at O-Dark-Thirty, but me and a couple of Fly Baby buddies prefer to sleep late. Here's both parts of my Noon Patrol postings from November, 1997.
Too low, too slow, and I learn a little Humility (April 1998)
I take Moonraker as far as I've ever gone, in The Long Trip (September 1998)
I say goodbye to a nautical legend in Goodbye, Mighty Mo (September 1998)
After years, I finally get a hangar to myself in Alone Again (Unnaturally)
Spooky doings at Auburn Airport, as documented in The Auburn Witch Project . Only peripherally Fly Baby-related, but interesting nonetheless.
Here's an April Fool's story I posted in 1999. I normally fly a small wooden homebuilt, but this is "PIREP" from when I took the controls of one of the world's BIGGEST wooden "homebuilts." The three strangest things about this story: First, it's totally true, second, the "homebuilt" was the "USS Enterprise" in one of the Star Trek movies, third...well, I had the controls as we took it into "combat"....
Astronomers have their own definition, but here's how I know it's The First Day of Summer . This day included a rather hairy takeoff from a remote strip, too. (June, 2000)
Sometimes all Sky Fever needs is a Fly Baby fix. April 2001.
A flight of one becomes Two, Impromptu . June 2001.
Where did the Fly Baby come from? Check out the Story Story . (August 2001)
Kick up your heels and have a hot time at the Runway Dance ! (August 2001)
A weekend with a lot of variety...The Biker, the Babes, and the 'Baby . (December 2001).
Fly Baby pilots don't have as many worries as the heavy iron. But we do get Gauge Problems the Big Guys Don't Have...
Foxes have their dens, and birds have their nests. Eventually, though, my wooden bird had to go through Changing Nests . (January 2002)
Fly Baby Gathering Stories - 2002 was the 40th anniversary of the Fly Baby design, and celebrations were held at Flabob California and Arlington Washington.
The Dunderbirds Imprecision Flying Team. Those Air Force guys have nothing to worry about.... [July 2003]
After posting a few Fly Baby photos and drawings that featured some Photoshop magic or other imagination with drawing tools, I got asked to put together a web page consisting solely of these airplanes-that-might-have been. See the Altered States page.
Cold-weather flying is more fun, when you include messing with the airport staff's minds.
Keeping the Students Off-Balance isn't a bad idea, either....
Shooting Video with externally-mounted cameras
Nose art and watercolor Fly Baby paintings
Whether it's the Super Bowl or the local aerodrome, a Wardrobe Malfunction is embarrassing....
More messing with minds, and a glorious cloud-clip, on a New Years Flight.
Eventually, the inspection torch is passed, in The Changing of the Guard
A Poem for Old Tail Dragger Pilots, by Wendell Davenport
Hevle Classic Pilot Report
Two pilots meet, and render Passing Honors.
When the weather's questionable for flight, start out by Sniffin' the Wind.
I finally get a new jacket, in The Webmaster's New Clothes.
Do-si-do your compass, with the Hillbilly Swing
(Whispers) - what it's *really* like to fly a Fly Baby
Carbon Monoxide problems in an open cockpit? You're kidding, right?
Doctor Frankentire. A flat tire, a flat pocketbook, and flat-out of prospects of finding a replacement tire for the last few miles to get to Oshkosh. All Ross needed was a sharp knife, an old bit of scrap tire, and a bit of safety wire....
Sometimes you have to deal with varying Points of View
A $40 Radio Control Fly Baby
A little bit serious, a little bit tongue-in-cheek, about Wind-Driven Generators
I go way cheap on equipping Moonraker with a new radio, in Full Metal Velcro
We've covered leather jackets and scarves, now let's tackle goggles.
I must have pretty low tastes...I like Enjoying the Garbage
Proverbs? I like the one about Shoes and Feet
Want to give rides in a Fly Baby? You can! Sorta....
Electrical system problems return...and are vanquished...in Spark, Redux.
Army Air Force pamphet on the basics of flight operations. This dates from about 1941, and has a lot of cartoons showing cute Fly-Baby-like airplanes.
The original Russian helmet conversion didn't stand the test of time, but converting it to use IPOD ear buds looks like a great solution.
The Goodyear brakes start acting up again, so I replace them with Grove wheels and brakes.
It's either $2,000 for a new tach drive on the engine, or $50 for an electronic tach. Hmmmm......
When you're ten or fifty, "Messing with Models" can have a different definition.
Ron gets hit by a Ghost Gust
Water going to get into the hangar? Check out Ron's Dam Solution.... (scroll down to the bottom)
Tired, worn out? A Fly Baby makes a dandy Stimulus Package.
Two years without an air show appearance, and it's time for a Recharge...
A little bit on Army Air Corps/Army Air Force paint schemes
After years of writing about slipping occasional flights in among a killer work schedule, the Pressure's Off.

The Songs They Sang. The stories behind some of the most famous pilot songs.
Sometimes, there's nothing worse than Car Nuts.
I find a frisky new Playmate.
I see an illustration of Situational Awareness
Superstitious? Me? Well, maybe a little....
The weather looks weird, in Eye of the Fog
Sometimes even a Fly Baby can be Blending In
Bizarre Mod? Maybe, but a Fly Baby might make a cool Morane
Cold again, time to show the Red Nose of Courage.
Meeting a long-ago friend, in Two Ships, Passing.
Every wonder where my plane's name came from? Why "Moonraker"?, indeed....
Time to discuss Leather Helmets
Summer Breeze (makes me feel fine)
A Piper pays proper respect to a Fly Baby
Even 85 horsepower is enough to give one a Power Trip...at altitude, of course.
Do Fly Babies frolic? Here's video, making that claim....
Video Games often have a Cheat Code. Get worried if you think you found one for a Fly Baby....
Weight lifting, Fly Baby driving. Doesn't seem like there should be anything alike, but purposes come together when one is Dropping the Bar.
Aw, come on...who doesn't like Cat and Baby Pictures?
"Trumping the Oil" has nothing to do with Presidential candidates, but there's still a bit about fooling people....
A gorgeous Fly Baby painting by Leslie Allen.
What might a Space Fly Baby look like? Better check Altered States!
Building a new Fun Meter
Gasp! Could it be? Could Ron actually have a flight where nothing weird, exotic, or dangerous happened???!!!!
Flying again with an Old Friend
Take a look at Ron's Slightly Weird Photos
Aerodolia: When everything looks like an airplane.
Blast from the Past: My first Fly Baby flight with a radio
If my last name was Gordon, Flash would now be an appropriate nickname.
Legacy: White, Gray, and Red. A tribute to a friend.
Using a Fly Baby to sell sports cars? It happened!
One cold-weather flight features the Highs and the Lows. Warning: Snot alert......
They yell it in terror when I go flying: "Curmudgeon at Twelve O'Clock!"
Spring approaches, and a flight becomes a Creature Feature.
Pretender to the Throne. N500F may not have been the legitimate winner of the 1962 EAA Contest.
Getting a little Remedial Education
Weird noises in any vehicle, airplane, car, whater, bug the heck out of me. Ban the Bonk is about chasing down one such.....
Sometimes the factors just seem to Stack up.
They make changes to the runway, which make me a Displaced Person.
Sometimes I'm just a Worrywart
Whale of a Tale: The Story of the Namu II
Flying Lit (Differently). No, not THAT kind of "Lit"....
After 35 years of Fly Baby aviating, you'd think I wouldn't forget The OTHER Knob....
When you're Witnessing an Emergency, take care that you don't become one yourself...
The Voice, and not in a good way.
It behooves one to fly one's OWN airplane
Fly Baby's Black Sheep Relative. Maybe.

Bill Hills
Bill bought a Fly Baby in 2017, and he posted about one of his early adventures.

JB's Stories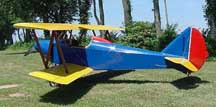 Johnnie Bullens owns a Fly Baby biplane, and has been writing stories about this own flying experiences.
The Stringbag Saga

A hangar fell on Drew Fidoe's Fly Baby (!), and he spent about ten years restoring it. He gave in a WWII RAF paint scheme, and has named it "Stringbag" in honour of the Royal Navy's Swordfish torpedo biplane.

Matt Michaels (aka WBYonder)
John Hudson Tiner
Poems
There have been a couple of folks who have written poetry about Fly Babies and/or their relationship to them.

Wendell Davenport is a dedicated Fly Baby pilot. A couple of years back, he figured age had finally caught up with him and it was time to sell his beloved Fly Baby. But he missed it so much that a year or so later, he bought another one. A POEM FOR OLD TAIL DRAGGER PILOTS helps to explain why....
Robert Gellock's friend Lowell Holschwandner built himself a Fly Baby over a four-year period, because HE WANTED TO FLY.
"Brain" Kissenger only owned his Fly Baby for a few months when he penned, "WHY I FLY"